Renewable Energy World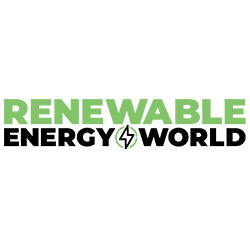 Renewable Energy World is the authoritative source for information on markets, policy and finance covering all renewable technologies – solar, wind, energy storage, geothermal, bioenergy and hydropower. From utility-scale to commercial and industrial (C&I), and residential in both the developed and developing world. Topics include power generation, T&D, DER, smart cities, IOT, microgrids, on and off-grid renewables, project and company profiles, market trends, mergers and acquisitions and asset management.
For further information click here.