In this package, items in below entitlement chart is included according to booth size. Any additional items are to be ordered separately.
STANDARD SHELL SCHEME BOOTH – 9SQM
STANDARD SHELL SCHEME BOOTH – 18SQM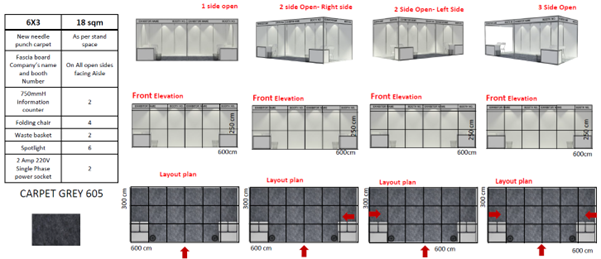 *Entitlement are non-refundable and non-exchangeable
All exhibitors are required to comply with event rules and regulations stipulated here (hyperlink to Rules & Regulations tab).
It is mandatory to submit specific documentation to PT PICO TBA and Christina.yeap@clarionevents.com (Hall 5) and Chloe.cai@clarionevents.com (Hall 7 and 8), the Official Contractor and Event Service Managers of Enlit Asia 2023 please refer to forms checklist here.
Important Note
Your booth will be considered a raw space/custom stand should you decide to build your own structure design, space only will be provided with no other entitlements. All raw space forms and regulations applies in the event of such booth type conversion (graphic print, furnishing, and add-on enhancements on existing shell scheme booth ARE NOT considered as custom design stand). Raw space stands are only available for booth sizes 18sqm and above. Any booths below 18sqm are not allowed to build their own stand.
--
Upgrade to Enhanced Stand
Interested to upgrade your booth to an Enhanced Stand?
Existing 18sqm Shell Scheme exhibitor have the option to upgrade to Enhanced Stand at additional SGD$5000, please contact sponsor@clarionevents.com for more information.
For all other booth sizes interested on Enhanced Stand upgrade, please also contact sponsor@clarionevents.com for more information.